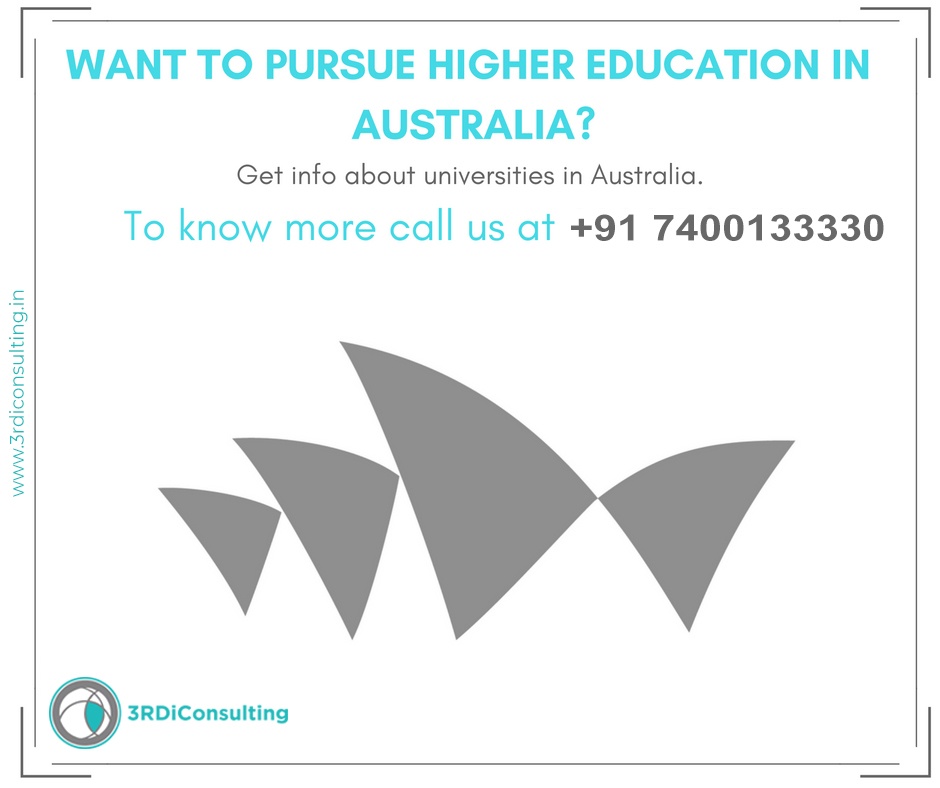 Australia has, indeed, turned as a prominent study destination for students from India and even for students from other education experts like the USA and the UK. The Standard of teachings, the advanced facilities, incomparable student exposure, and commendable lifestyle makes an obvious choice for students from across the world to study in Australia.
Australia has emerged as one of the most favorable destination to study and live because of the high standard of education

Australia has the third largest number of International students after USA and UK, making it a serious contender in the International education arena.

Flexible degree programs as well as short term industry relevant programs are available

There is something for everyone. Australia is known for its pathway options that lead to undergraduate and post graduate degrees. Hence students, who have not done well in their year 12 or even in graduation, still have options to study further.
The Application process generally is the same for most of the Universities however it may vary slightly from one University to other.
3RDiConsulting assists the students to compile and process all the necessary documents to be sent to the Universities. The Universities generally take approximately 2 days to 4 weeks to respond and to process an application. Hence we advise the student to apply as soon as possible.
The documents required for the admissions are-
mark sheets and passing certificates of previous studies,

work experience letters (if applicable),

reference letters,

IELTS/TOEFL/PTE score card to assess English proficiency,

ID pages of passport.

Additional documents (Statement of purpose and CV) can be asked by the counselor if required depending on the course you have selected.
With the implementation of new process under Streamlined Visa Processing a student is required to submit certain documents like Student Eligibility Checklist, Financial Declaration Form, Pre Visa assessment Form at the time of submitting the application for admission. Incorrect or incomplete checklists will not be processed by the universities and may lead to delay in processing your applications. Your counselor will provide you all the forms and will submit the same to the University for the Assessment.
Deadlines & Intakes: Australia generally has two intakes in a year i.e. February/March and July/ August, however some universities offer courses in September/ October as well. Some courses like Nursing Teaching, Physiotherapy have only one intake in a year hence we advise the students to apply well in advance to start their admission and visa process so that all the process could be completed on time.
University Foundation Studies:
Such as university entrance, preparatory and bridging courses – A$9,000 to 14,000 a year
Undergraduate
Bachelor Degree, such as courses in arts, business, economics and law – 




A$14,000 to 35,000 a year

Laboratory-based Bachelor Degree: Such as science and engineering courses – 




A$14,000 to 35,000 a year
Postgraduate
Graduate Certificates/ Graduate Diplomas – 

A$15,000 to 36,000 a year

Masters/ Doctoral Degree – A$15,000 to 36,000 a year
Australia is a land of diversity and culture. Living in a different country can be very different and your lifestyle will undoubtedly change. To help you adapt to Australia, we have compiled this resource detailing what life in Australia is like.
Accommodation – On-Campus Housing and Off-Campus Housing
On-campus housing can sometimes be hard to secure as spaces are limited. Fees will vary depending on which university you attend. Housing located off-campus are very popular among the students as you would probably group together with a group of students to either rent a house or flat with fees varying depending on your location and size of accommodation.
Transport
Buses, Trains and Subways and Taxis are the popular mode of transport. The living expenses include food, Entertainment, domestic and international travel, telephone and internet and Incidental costs
Choosing the right education program and finding the best university to study in Australia play a vital role for your future success. Along with this, choosing the right education consultant that can guide you towards your goal is also important.
Find the best universities to study in Australia with 3RDiConsulting. Offering a unique boutique counselling & mentoring approach, we guide our students towards the path of success.